Education in
Muskingum County
From preschool to graduate degrees, Muskingum County offers a wide range of educational opportunities. With the array of local post-secondary educational offerings by Muskingum University, Ohio University Zanesville, and Zane State College, as well as adult education programs at Mid East Career & Technology Center, Muskingum County is able to locally provide hands on educational opportunities. 
Career & Technical Education
The main campus of the Mid-East Career & Technology Center is located in Zanesville.  The campus has two constituent groups: 11th and 12th grade high school students as well as adults seeking career training.  Training programs for adults have been created through collaboration with area employers and can lead to professional certifications as well as college credits.
The Adult Center for Education is the adult education training division of the Mid-East Career & Technology Centers.  Fully accredited by North Central Accreditation (NCA), the Adult Center offers full-time career development credential based training programs, short-term training, and customized training for business and industry.
Full-Time Training : All 11 full-time training programs lead students to earn nationally recognized industry credentials or licensure, all offer college transfer credits, and all are Federal Financial Aid eligible.  Over the past three (3) years, 85% of students enrolled in these programs have completed their training, 90% have earned industry credentials, and 85% have secured related jobs.  These 11 offerings cover trades, healthcare, public safety, and business/office career fields.
Short-Term Training: The Adult Center offers over 50 part-time programs, many with associated industry credentials for entry level employment, career advancement, hobbies, and incumbent workers.  Programs are offered quarterly, on a rotating basis.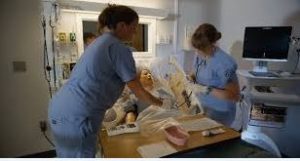 Customized Business & Industry Training: The Adult Center provides skill and workforce training tailored to meet an individual employers needs.  Most training can be offered at Mid-East or at the worksite.  The Adult Center has experts specializing in OSHA Training, Health & Public Safety Training, Computer and Office Skills, Human Resources Skills (Customer Service, Team Building, Employee Selection/Advancement, etc.) and Industrial Training (PLC's, Welding, VFD's, Pneumatics/Hydraulics, etc).  All customized consultative Training comes with the Adult Center's 100% Satisfaction Money Back Guarantee.
The Adult Center for Education employs approximately 145 full-time and part-time professionals and serves the core counties of Muskingum, Guernsey, Belmont, Perry, Noble, and Harrison.  Over 1,500 full-time and part-time adult students are served each year.