Muskingum County Workforce
Abundant & Affordable Workforce
Downtown to downtown, Zanesville is 52 miles from Columbus, the 14th largest city in the U.S.A., via Interstate 70.  The Columbus MSA has over two million people.   While Muskingum County is just outside the Columbus MSA, employers in Muskingum County will find a readily available work force.  The labor force in the county is just over 41,000 people.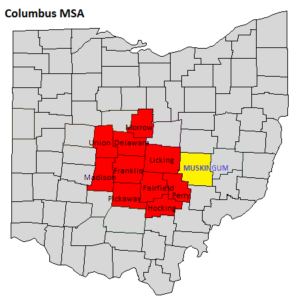 But Muskingum County is not an island; in fact, we are a regional center for health care, services, shopping and employment.  Approximately, 9,000 commuters travel to Muskingum County from other counties to go to work.  Click here to see a chart of Muskingum County commuting patterns. When looking at neighboring counties within a 45-minute commute, the regional labor force is 523,807 people.  For the latest unemployment data, please connect to the Ohio Labor Market Web site.
In Muskingum County we offer employers the services they need to successfully staff growing businesses.  The Ohio Means Jobs – Muskingum County office provides recruitment, application and screening services to employers at no cost, saving the company time and money and allowing managers to focus on getting their business up and running.

Working in Workforce Development makes me aware of how important the connectivity to employers and job seekers are in making this county a viable part of the landscape. Muskingum Co. residents have always had a great work ethic, loyalty to local employers and a strong sense of community.  We take pride in our business community and value relationships built along the way. We strive daily to see business and industry grow and support our "let's make it happen" motto.

— Julie Metzger
Supervisor: Ohio Means Jobs Muskingum County

Being born and raised in Muskingum County I can attest that the work force here in Muskingum County not only has a great safety record but are also very productive and accurate.  I have been employed by two Fortune 500 companies in the last 22 years here in Zanesville.  At both of these companies the "Zanesville" team has been the best in their chain in the above mentioned metrics.

— Brian Braglin
Operations Manager, Dollar General

I experience firsthand how important the amenities of a community are to job seekers and community members alike.  Our Visitors Guide, Trail Guide, and additional marketing pieces tell the story of all the great things to see, do and experience in our beautiful county. Additional services like What's Happening emails keeps employers and community members engaged on nightlife, family events, as well as opportunities for newcomers. Muskingum County is a great place to Live, Work and Enjoy your downtime too!

— Kelly Ashby
Director, Convention and Visitors Bureau

As a lifetime native of Muskingum County/Zanesville, I have been in the workforce for 36 years as an Executive Director for a local non-profit and a governmental agency. I can genuinely say I have had the privilege of working with, directing, or managing some excellent, hard-working, dedicated, and team-oriented employees who have contributed to the success of each agency's mission, which helped elevate the agency to the next level. 

— Howard Stewart, Jr.
Transit Director, South East Area Transit

We're a very local, community driven company here in Muskingum County. We live here, we want to make it a better place, we want new businesses to come in, and the local support you get here is phenomenal.

— Drake Prouty
HR Manager, Sidwell Materials

Growing up in Muskingum county, and having the opportunity to also travel the world, I have seen first-hand the advantages that being a business in this community provides. The relationships we have made with the City, Ohio Means Jobs, the Chamber & other local organizations have been crucial to our growth. Although we started in Zanesville, we now provide services nationwide. Our local community will always be the backbone we lean on.  The support is unlike any other community we have experienced and we are proud to welcome other businesses & families to the area. It's a top choice location to live & work!

— Kate Klaus
HR Manager, ClearPath Utility Solutions
Zanesville is a "Micropolitan" Community in
Eastern Ohio.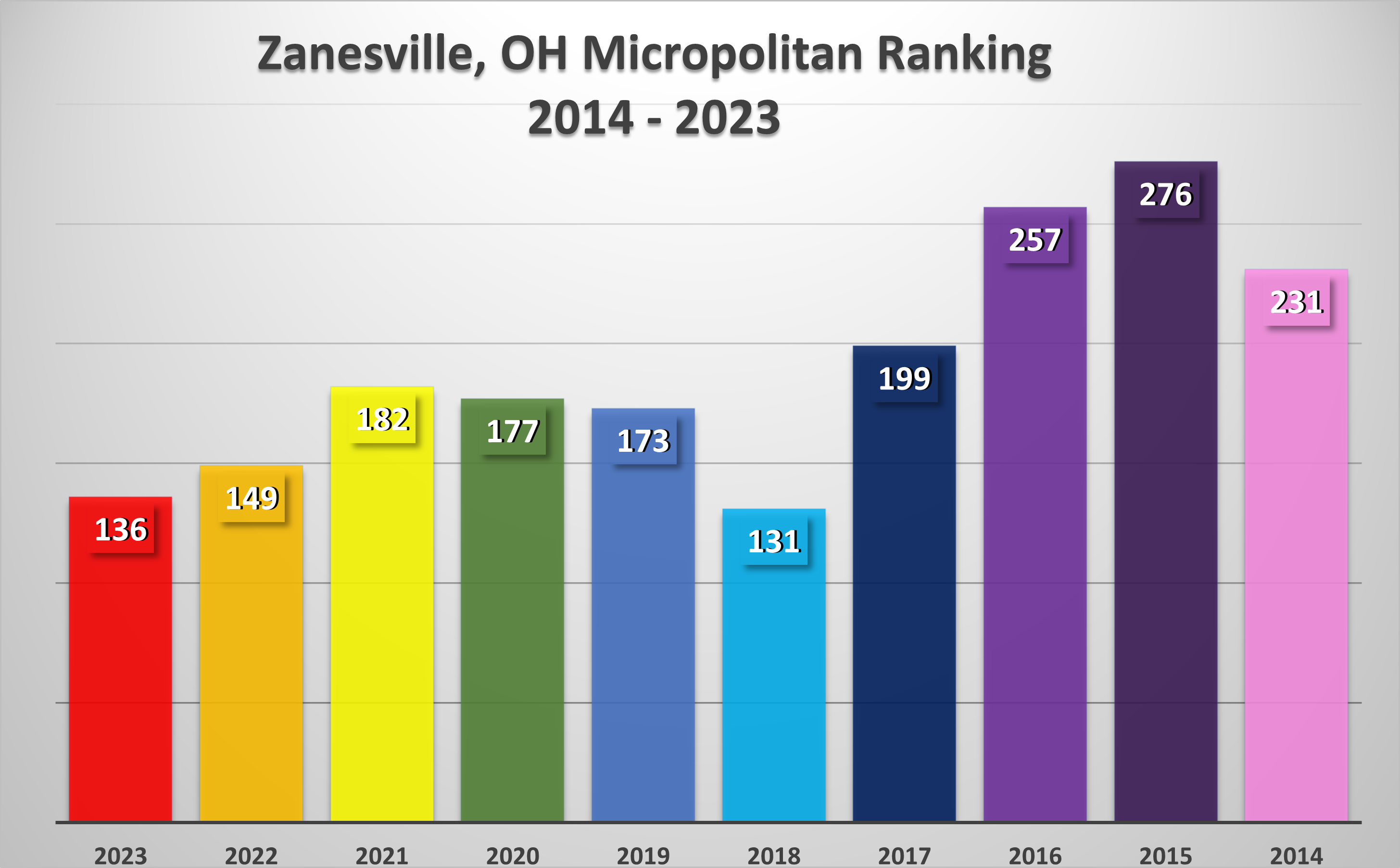 There were 543 Micropolitan communities in the United States in 2023, and they are ranked annually for economic strength. In 2023, Zanesville ranked 136th. Click here to see how Zanesville ranks against other Micropolitan areas in the United States.
Ohio does not assess a corporate income tax or an inventory tax. The Tax Foundation and the Buckeye Institute created a ranking for various types of taxes on businesses and concluded that Ohio ranks fourth lowest in the nation for unemployment insurance taxes.