Muskingum County Workforce
Muskingum County Businesses
+100 Employees
Abundant Workers
Downtown to downtown, Zanesville is 52 miles from Columbus, the 14th largest city in the U.S.A., via Interstate 70.  The Columbus MSA has over two million people.  While Muskingum County is just outside the Columbus MSA, employers in Muskingum County will find a readily available work force.  The labor force in the county is just over 41,000 people.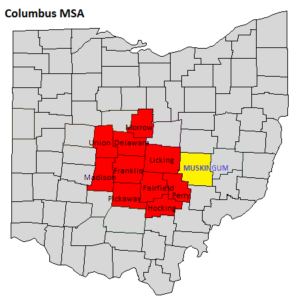 Muskingum County is a regional center for health care, services, shopping and employment.  Approximately, 9,000 commuters travel to Muskingum County from other counties to go to work.  When looking at neighboring counties within a 45-minute commute, the regional labor force is over one million people.
In Muskingum County we offer employers the services they need to successfully staff growing businesses.  The Ohio Means Jobs – Muskingum County office provides recruitment, application and screening services to employers at no cost, saving the company time and money and allowing managers to focus on getting their business up and running.
Being born and raised in Muskingum County, I've seen that the work force has a great safety record, is very productive and accurate.  I've been employed by two Fortune 500 companies in Zanesville, at both companies the "Zanesville" team has been the best in the mentioned metrics.
— Brian Braglin
Operations Manager, Dollar General
"The Workforce Development Community has the connectivity for employers and job seekers. Muskingum County residents have a great work ethic, loyalty to local employers and a strong sense of community.  We continue to support our "let's make it happen" motto.
— Julie Metzger
Supervisor: Ohio Means Jobs Muskingum County"
"We've found a pro-business attitude around here which I really appreciate…it's really helped."
— John Saunders
Owner: Saunders Machine Works
"There's so many good things in our community – the arts, the business community, parks, recreation and just a good strong support network that keeps pushing things forward."
— Brian Diamond
Owner: I Track
"We're a very local driven company here in Muskingum County. we live here, we want to make it a better place for everyone."
— Drake Prouty
Human Resources: Sidwell Materials
"At Mid-East Career and Technology Center, we feel like the customers we serve are the local companies. The product we put out is a skilled workforce."
— Connie Shriver
Adult Ed. Administrator: Mid-East CTC
Muskingum County is the Proud Home to these Fortune 500 Companies.