Muskingum County Business Parks
Northpointe
Northpointe, a 390-acre mixed-use industrial park, is located in the northern portion of Zanesville. It is zoned and suited for commercial, office and industrial development. Northpointe provides direct access to Northpointe Drive, a limited access highway linking Zanesville to State Route 16. 
Current industrial park tenants include Kellogg's, Spectrum, Barnes Advertising, Saunders Machine Works, Federal Express, J.W. Garage Door Company, K.E. Dittmar Company, Ohio Textile Service, Champion Gymnastics, Flow-Liner Systems, JD Equipment, Winnelson and Northpointe Fitness.
Nearly 100 acres are still available for business development with lot sizes ranging from 3 to 35 acres. Click here for a printable fact sheet.
Airport
The Airport Distribution Park offers unmatched access to ground and air transportation. The park is located adjacent to Zanesville Municipal Airport (ZZV). For ground transportation, the park is located just one mile from an Interstate-70 interchange with access provided by a state route. Manufacturing, assembly and distribution companies have found the Airport Distribution Park ideal.
Current park tenants include 5B's, Bimbo Bakery, Plaskolite, Wayne Manufacturing, SEOIL USA and White Castle Systems. Sites up to 30.18 acres are available for lease or purchase.
Tax incentives are available for eligible projects through the Ohio Enterprise Zone Program. For a printable information sheet on the Airport Business Park, click here.
Eastpointe
The Eastpointe Business Park is an approximately 1,200-acre business park located 2.5 miles north of Interstate 70 Exit 157, just east of Zanesville, Ohio. The industrial park provides quick interstate access, a great proximity to U.S. markets, all utilities, and a rail transfer station. 
Dollar General and AVON Products have distribution centers at Eastpointe. Bimbo Bakery and Bilco Company have manufacturing facilities in the park. Halliburton Energy Services, an oil field service company, became the third Fortune 500 company to locate in the park. TRP Zanesville, a division of Hissong Kenworth has a temporary location in the park. The most recent business to break ground on a manufacturing facility in the park is AMG Vanadium, a spent catalyst recycling and metal reclamation service company. Enterprise Zone tax exemptions are available for qualifying projects.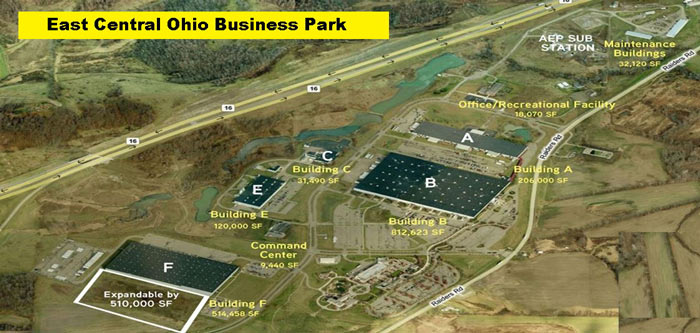 East Central Ohio (ECO)
The ECO Park is a 700 acre park located one mile east of Frazeysburg, OH on the former campus of the Longaberger Company. A four- lane, divided highway (State Route 16) borders the property to the north with an interchange adjacent. It is managed by a non-profit association that is responsible for the infrastructure of the park, including utilities and an internal service road, for the benefit of the tenants, while seeking to attract additional companies. 
Current park tenants include Fanatics (building F), Kendrick Excavating (building C), Malouf (building B), and Ridge Corp (building E). Sites up to 33 acres are available for lease or purchase.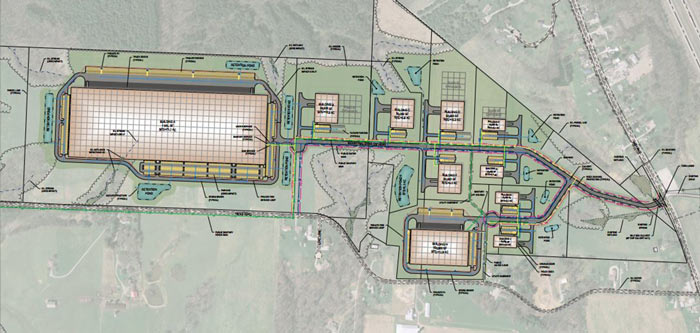 National Road Business Park
The development of the National Road Business Park will truly be a unique, inter-governmental effort, as the funding for purchase and development is being shared jointly between the ZMCPA, Muskingum County and the City of Zanesville. Additionally, we are actively pursuing over $1.25 million in grant dollars to assist with the creation of the park.
The immediate goal at the National Road Business Park will be developing the 203 acre Greenfield site into a viable location capable of holding a ~1 million square foot facility with sufficient infrastructure in place. Combined with numerous sites for smaller facilities, this will create employment opportunities for the residents of Muskingum County and Southeastern Ohio. The ZMCPA will have the ability to market these sites and better compete for new project leads.
The first phase of development is planned for Spring 2020, with the development of an access road into the site.
The Board of Directors and local elected officials recognize that investment must take place in order to continue to move Muskingum County forward. The National Road Business Park will provide an excellent opportunity to enhance the economic climate, and provide Muskingum County with a competitive edge to add new business locally. Click here for a printable flyer.